DBMM One-dayer
---
Introduction
MKWS
will be organising
DBMM
one day team event on Saturday 11th January 2020. The format will be similar to that fomulated by Ray Briggs for his successful Guildford tournament and used for last year's
MKWS
One- dayer. Although a team event, individual entries are welcome; the organisers will group individuals to either complete or form new teams. Teams do not have to represent clubs.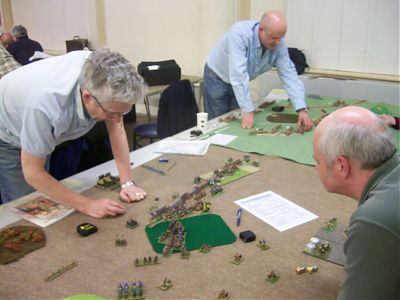 Please note the teams listed below are still subject to change, as we are still accepting entries, and therefore individual players may be relocated to avoid army list clashes or form new teams.
Teams / Players currently entered for the 2020 tournament:
| | | | |
| --- | --- | --- | --- |
| Team | Player 1 | Player 2 | Player 3 |
| | | | |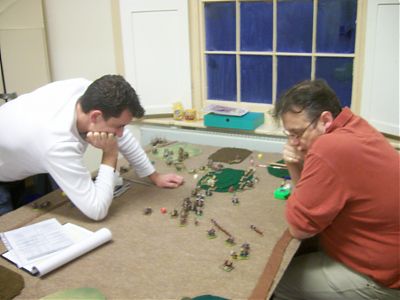 Rules
The rules will be
DBMM
2.1 with no night attacks allowed.
The figure scale will be 15mm.
Team size will be three players per team.
Individuals wishing to enter will either be grouped into teams, or used to complete full teams at the organiser's discretion.
In the event of an odd number of players, the player with the bye will score 17 points for that game.
Only armies from
DBMM
Book 4 may be used.
Only Allies may be taken from other books.
The time period will be 1071AD to 1515AD
Army size will be 400pts.
An army can only be used once per team
.
There will be two rounds on the day, with both rounds being drawn on the morning of the event, when attendance levels have been confirmed. Obviously team members will not play one another, whilst every effort will be made to avoid clubmates playing each other.
If depolyment ends between dusk and dawn the battle may not begin until sunrise.
Timetable
08.30 – MK members will arrive for set up.
09.30 – First competition round.
12.45 – End of first competition round.
14.00 – Second competition round.
17.15 – End of second competition round.


The venue will be the York House Youth Centre, London Road, Stony Stratford. A map can be found on this website via the About Us link.


Entry fee will be £10 per player.


Trophies will be given to the winning team and the highest scoring individual. Minor team trophies will be provided if entry levels are sufficiently high to make this appropriate.


For entry or request for further details email DBMM One-dayer.


Army Lists should be submitted to List Checker by 5th January 2020.