National Wargames League
---
CAMPAIGN
Middleton Hall
thecentre:mk
Central Milton Keynes
Campaign 2022 will take place over the weekend 17th / 18th September 2022
Introduction
The National Wargames League has been resident at Campaign, Milton Keynes Wargames Society's annual convention, since 2001. The venue, Middleton Hall in thecentre:mk, has proved to be a great success, with both players and spectators alike. The League is organised in a divisional format, which allows for promotion and relegation between divisions of the same league. A division normally consists of six teams, and each team will play all the other teams within their division over the weekend. You will find that all of your games will have meaning as the line between fighting relegation or promotion is very thin. Your starting point is determined by the previous years result, with new teams joining a League's lowest Division. The teams consist of three players, with each player competing in a different sub period.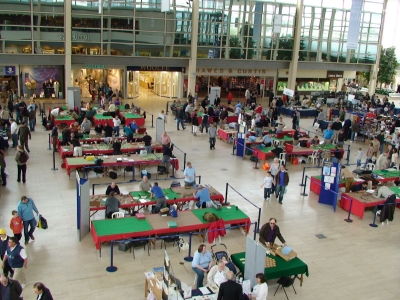 The National League
The National League currently offers four full Leagues. These Leagues are 15mm FOG Ancients, 25mm/6mm DBMM Ancients, 15mm MEG Ancients and 15mm L Art De La Guerre.
There are also 2 man teams for 15mm Flames of War and Individual entries for 25/28mm Renaissance
For specific league details please see the League links.
*Tournament format for 15mm FOG Ancient, 25/6mm Ancient DBMM, 15mm MEG Ancients and 15mm L Art De La Guerre *
Three players per team
Six teams per division (depending on entry levels)
Five games over two days
Promotion/relegation – two up/two down
All full leagues are

BHGS

ranked.
To retain divisional status – two players must be retained from previous year.
Alternative Format A (for the a four team division)
This will only apply when the number of teams in a league is either four or the higher divisons are made up of teams in multiples of either 6 or 5 teams.
First, second and third rounds as a round robin league.
Fourth Round using the previous days final table.
Game A: Top Team v Bottom Team
Game B: Second Team v Third Team
Fifth Round to determine final positions.
Winner Game A v Winner Game B (1st or 2nd)
Loser Game A v Loser Game B (3rd or 4th)
For the fourth and fifth rounds players may change periods, but the armies must remain the same.
The 1st and 2nd teams will be promoted to the division above for the following year.
Alternative Format B
This will only apply when the number of teams in a league is either eight or the two lower divisons are made up of four player teams.
The teams will be listed initially with those teams that took part in the previous year, in the order in which they finished that year. Newly entered teams will be added to the end of the list as they enter. The teams will be place into two groups of four teams, with teams listed as 1,3,5, and 7 in one group, teams 2,4,6 and 8 will be placed in the second group.
Each group will play all of the other teams within their group on the Saturday. The two top teams from each group will qualify for the higher division for the Sunday games. The two bottom teams will qualify for the lower division for the Sunday games.
The teams will carry forward to the Sunday games their score against the team qualifying with them. They will then complete their fixtures against the other two teams within the division.
There will be no promotion / relegation between these two newly formed divisions. There will be promotion to and relegation from any division above the higher of the two newly formed divisions.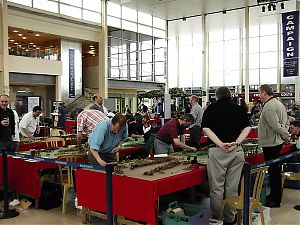 Show Timetable
Saturday
07.00 – Show opens for traders to set up.
09.00 – Show opens to the public.
09.00 – First competition round.
13.00 – Second competition round.
16.30 – Third competition round (ending at 19.30)
18.00 – Show closes for public access.
Sunday
09.00 – Fourth competition round.
11.00 – Show opens to the public.
13.00 – Fifth competition round.
16.30 – Show closes. Prize giving.
17.00 – Centre closes.
17.00 – Traders may take down stands.
Organisation
As tournament players ourselves, we are sensitive to reservations you may have about the venue. To this end each division will be separated from the public by a post and rope system, and Milton Keynes Wargames Society stewards will be dedicated to each division to communicate with the spectators and ensure that the competitors are not disturbed. Whilst we as organisers will be trying to optimise the best possible environment for the players; we would hope that the players themselves will appreciate, that as probably the country's largest promotion of wargaming to non-wargamers, their own presentation of the hobby in the representation of both their army and the battlefield itself is of the utmost importance.
Entry Fee
The entry fee for the National League (two days) is £35.00 per player.
Entries
Neil Sutherland
7 Horton Gate
Giffard Park
Milton Keynes
Bucks
MK14 5JQ
Closing Entries including a cheque made out to MKWS by 4 September 2022.